While at home in the jazz realm, Sandy is equally skilled in blues, Celtic, Klezmer, Latin and much more. He learned much of his harmonica styling while under the tutelage of harmonica wizard Howard "Flecktone" Levy. He has since gained international recognition in the World Harmonica Competitions. Sandy has won numerous awards and is equally skilled on the banjo with which he fronted his own band called the SanDroids (see cd entitled "Escape Velocity"). Sandy currently performs his unique style of harmonica and ukelele jazz in a duo, trio, & quartet setting. For bookings or more info, email Sandy at harpmac@sbcglobal.net.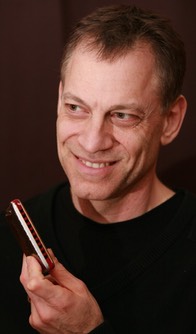 Sandy has performed on dozens of albums nationally and has released four albums of his own: "Banjo Magic" (1987)-currently out of print, Escape Velocity with his band the SanDROIDS (1996), "New World Harmonica Jazz" with The Carolbeth Trio (1998) and "The Klezmer Nuthouse" (2002).
Sandy has opened for: Norman & Nancy Blake, BeauSoleil, Peter Ostrushko, Cassandra Wilson, Trio Globo, Hot Rize, Leon Redbone, Victor Wooten, and John Hartford. Sandy has performed with: Howard Levy, Brewer & Shipley, Bela Fleck, Bluegrass Alliance and many others.
On a more personal note...
Sandy & his wife and daughter center their lives around their Lord and Savior, Jesus Christ.
Being Jewish as well as a strong Christian, Sandy likes to tell people that "Jesus made me kosher". To read more about Sandy's faith, check out the liner notes from his CD entitled "The Klezmer Nuthouse".
"He is a true musician.  And to also think of the ideas that he hears in his mind and then to execute them with flawless ease is truly astounding.  My hat's off to him.,
                                                 Richard Hayman
Principal Pops Conductor, St. Louis Symphony Pops Concerts-Classical Conductor